On Saturday 9th December 2017, the team here at Viva Blackpool had the pleasure of hosting a very special Christmas Draw for the 4th Battalion's Duke of Lancaster Regiment.
Our events team were given the opportunity to meet and work with Sergeants Joseph Cork, Terry Leonard, and Garry Copeland in the organisation and delivery of this stunning Christmas celebration.
As always, our Events Manager Amy Mantle enjoyed planning this special occasion and bringing it to life for the Sergeants and their families to enjoy.
Amy is delighted to share a few memorable highlights of the planning journey, and what it was like helping to create a magical evening for her clients, and also what it was like working with such inspirational people.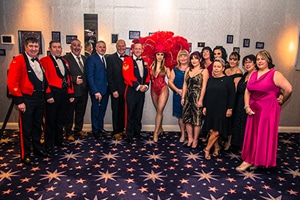 The Meeting …
If I had to sum up the 4th Battalion's Christmas Draw in one phrase it would have to be 'a night to remember'. The first time I had the pleasure of meeting Sargent Joseph Cork, was back in May when he had booked to come and watch one of our in-house shows; Viva Vegas Live.
I'd say it was only a couple of weeks later that I received a phone call from Joe, actually enquiring about hiring our venue for a Christmas Party for his sergeants, to celebrate the Christmas festivities with their families.
Thinking back, I remember that this event was important to me personally and one that I wanted to make extra special as my own younger brother, Michael currently serves in the same Regiment as Sergeant Joe Cork.
Let The Preparations Begin …
Viva Blackpool is known for throwing the biggest and best celebrations in the North West and I knew I wanted this event to be no different, so of course, I invited Joe and his colleagues to the venue to have another look around and to discuss their requirement's for the event and to my delight they fell in love with the venue and loved the options we could provide them with – Phew! Now for one of my favourite parts of my job – The preparations!
Over the following few weeks myself and the events team worked closely with Sergeant Cork to finalise a brief and get a solid plan of action in place – I really can't tell you how many phone calls we exchanged in the six months lead up to the event and even Joe began to joke; "I bet you're sick of hearing my voice". However the six month lead up to the event flew by, and soon it was party time.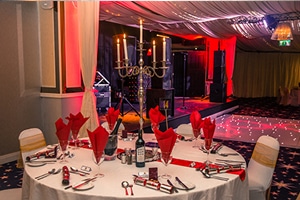 Venue…
With an impressive layout across our stunning Festival Suite, we placed 16 round tables suitable to each seat 8 guests, as well as setting down our beautiful white starlit dancefloor right in front of the stage, the venue looked perfect! One of our gorgeous Vegas Feathered Showgirl's greeted guests as they arrived, handing out glasses of Prosecco and Orange Juice to add that glitz and glamour to this wonderful Christmas gathering.
The tables were dressed with white cloths, red runners, and a mixture of gold and silver candelabra's (Sonje Jones Flower Design) were placed in the centre of each table complimented with scattered table diamantes. White chair covers and gold sashes that Sergeant Cork had chosen, really suited the theme of the room and gave it the elegant yet Christmassy feel that we were all hoping for. The red napkins in the wine glasses, the red Christmas crackers, the bottles of wine, and not to forget the bottle of bubbly on each table, really did create a sense of occasion and became one of the talking points of the night!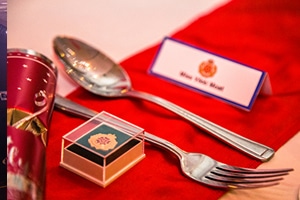 Exquisite Dining
Where do I start with the food? During our first meeting, Sergeant Cork, and Sergeant Copeland both knew that they were looking for a traditional Christmas Menu although they wanted this to be a little bit 'more' than the standard 'Turkey Dinner'. After a discussion about our available menu options, they had opted for a 5-course menu, with the Tomato and Basil Soup to start served with warm crusty bread – A perfect winter warmer! For the main course; a traditional Turkey dinner, of course, served with seasonal vegetables, and potatoes, topped with Festive Turkey Jus. Followed by a mouth-watering Cookie Crumble Cheesecake, with Coffee's, and a luxurious Cheeseboard served to each table.
I did my rounds of visiting each table to check the meals were being thoroughly enjoyed; I received nothing but wonderful feedback.
However, behind the scenes in the kitchen, Andy (our Executive Chef) and his team were busy freshly preparing two EXTRA vegetarian meals that had been requested during dinner service. Andy prepared a delicious Penang Curry served with Coconut and Coriander rice for the additional vegetarians, and they were so grateful that we could create something suitable for them at such last minute!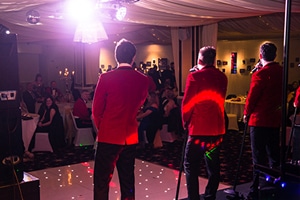 Entertainment…
I've been waiting to talk about this since the beginning of this blog, the entertainment is always the best part in my opinion, and the most important, the entertainment is what sets the atmosphere for the night. Luckily Joe chose our resident in-house tribute band, The Jerseys as well as DJ Phil Colbert to entertain the guests throughout the night and let's just say everyone had a very 'merry' time.
Everyone up dancing along and having a laugh was the perfect way to end the evening.
Capturing Memories…
The whole night was truly memorable and everyone at Viva really did hope that everyone had an amazing time – one thing was for sure, memories were definitely made on the night and luckily our marketing manager Jon Boris managed to capture some amazing moments.
A few days later, I received an email from Joe that included some lovely comments about the party, it read:
Amy
On behalf of the Regimental Sergeant Major myself and the Warrant Officers' and Sergeants' Mess, I  would like to thank you, and the rest of the team for an amazing evening. The food was superb, the room was impeccably dressed, and the entertainment was first class.
I have received nothing but positive feedback from all those that attended the evening, this is a credit to you and the hardworking team that supported us in the preparation and delivery of the evening.
I will be recommending Viva Blackpool for future military events.
Thanks again to you and the team for a superb evening.
It's always lovely when we get feedback from our clients and really does make what we do so much more rewarding.]
If you would like to know more about our venue or want to look into hiring out one of our spectacular rooms then click here or call 01253 297 297.