Have you ever seen a real Unicorn? Well, neither had we… Until our Event Manager, Amy threw her daughter, Blessie a magical joint Christening and 2nd Birthday Party celebration!
Blessie's joint christening and birthday celebration was a very exciting and rewarding experience and of course, the day turned out hassle free and all of Blessie's guests had an incredible time.
Being in the Events Industry, Amy had lots of ideas about how special she wanted to make her daughter's birthday party, and with all the contacts we have here at Viva Blackpool, we knew just how to do it!
The preparations began around 8 weeks before the big day, and everything from the Church service, to the pastel coloured marble room décor, and the cakes and pastries on the afternoon buffet was thoroughly considered.
The Baptism service took place at All Hallow's Church in Bispham, and the whole experience of the service itself was just beautiful.
Our very own Leye D Johns was asked to be Godfather and he accepted on the provision that he would become Blessie's "Fairy Godmother" instead!
The service was short and sweet surrounded by Blessie's nearest and dearest. Of course, Blessie was more interested in the Christmas tree inside of the church and entertaining her guests than what was going on in terms of the Service, but she definitely enjoyed herself being the centre of attention.
Following the service, all the guests made their way to Viva Blackpool and into the Festival Suite and wow, did the room look sensational!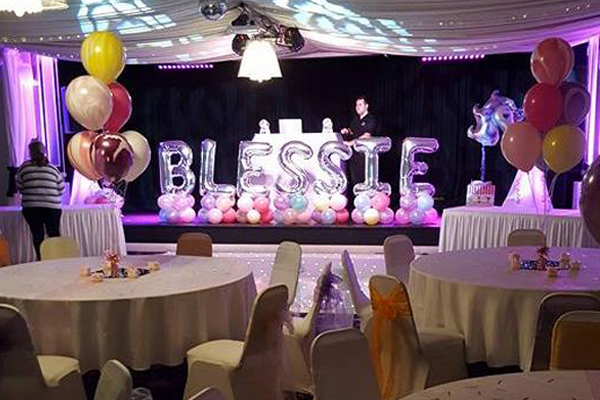 The indoor marquee style suite was dressed in crisp white linen and pastel coloured organza bows on each chair with pink satin runners on each table. On the centre of each table were stunning pastel coloured marble balloons with scattered gems around each bunch. Surrounding the centrepieces were handmade favours with little Strawberries and Cream flavoured truffles inside.
Of course, Amy had decided on a Unicorn Theme, which even included Peach flavoured Unicorn Shimmer in the prosecco which was given to guests upon arrival.
There was a mixture of Birthday and Christening balloons around the room, and giant silver letter balloons spelling out BLESSIE sat on pastel stands which came from the lovely Caryn at Balloonatics.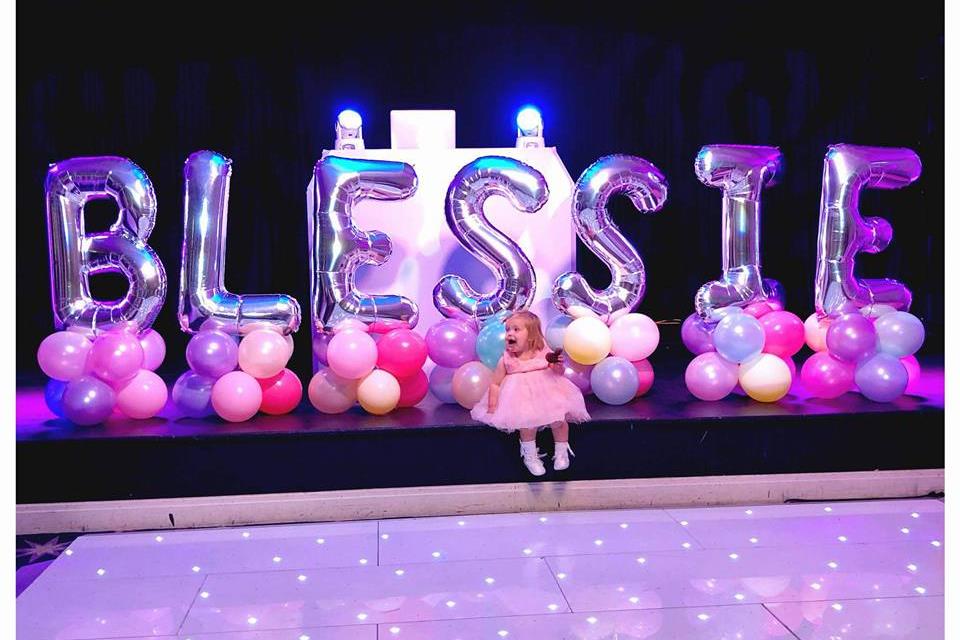 The Afternoon Tea Style Buffet prepared by our Executive Head Chef Andy Miller was to die for, and it had a delicious selection of cakes and pastries, and chocolate dipped marshmallow macaroon sticks – Yummy!
Amy had also hired a 'doughnut wall' which went down really well, they were so tasty and it looked great – A perfect addition to any celebration to give your guests that extra WOW.
I hear you sweet-toothed party planners asking – Mmm doughnuts, but what was the cake like?
Well… This was no ordinary christening cake. But then again, this was no ordinary christening!
The cake, in true 'EXTRA' party style for Blessie, was just out of this world with 4 different flavoured tiers and flashing lights – AND it was more than twice the size of the birthday girl herself!
"I hadn't seen the cake until we arrived at the venue, I had discussed with our cake maker, Ness Bolton, from Boutique Cakes and Bakes of what it was I was looking for, and she asked me if she could have free reign of the design. I trust Ness, and I know she knows exactly what I like, so I allowed her to create a masterpiece – and oh my god, it was definitely a masterpiece!"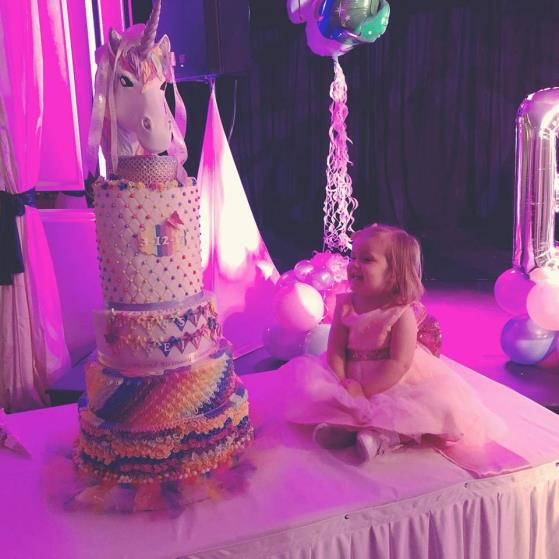 As we mentioned before it was a unicorn themed party! Amy wanted to surprise Blessie and make it a day nobody would forget. It certainly was that!
The Special Guest… Amy had joked with friends previously about how amazing it would be if she could get a real unicorn for the day, it was a running joke here in the Viva office and everyone thought she was mad – but… She only went and hired a real (well kind of) UNICORN and kept it a secret from everyone, including Blessie and all her guests!
The look on Blessie's face and everyone else's was absolutely priceless! Blessie and all of the children (and adults as well) were in awe as the miniature pony dressed in a unicorn horn, with a rainbow mane, clipped wings, and a shimmering coat strolled into the Festival Suite and became the main attraction on the dancefloor!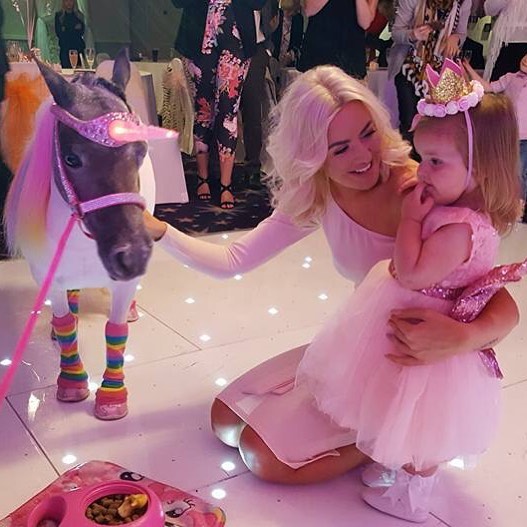 The company who brought the unicorn were fantastic, so professional and friendly! They brought lots of brushes, clips and dressing up bits for the horse so the children could play and interact with it. The horse was so well behaved and most importantly well looked after. Magic the Unicorn was so good around all of the little children (and adults) who really couldn't get enough!
"I was so pleased with the whole day, everyone seemed to have a really great time, and that's what it all boils down to really. Blessie received very generous and beautiful gifts which we were so grateful for. I already can't wait to plan her next birthday… How can I top this one?"
If you would like your very own Unicorn Party then contact our events team on 01253 297 297 or email Amy@vivablackpool.com