The Jersey Beats – Oh What A Nite!
A sensational show celebrating the music of Frankie Valli & The Four Seasons!
Celebrating it's 5th season here in Blackpool – this show is our most popular midweek production and appeals to a wide range of audiences and ages.
Featuring the music of Frankie Valli & The Four Seasons! This is music with a broad appeal including 'Sherry' 'Beggin', 'Grease' and 'My Eyes Adored you' PLUS more music from the era – so no worries about individual taste or pleasing a big group.
Performed by an amazing quartet of vocalists – Matt Andrews (Frankie), Johnny O'Connor (Nick), Toby Beal (Tommy) and Michael Cosgrove (Bob) – the show appears with a fabulous troupe of showgirl dancers and full production including video.
You'll enjoy plenty of comedy, music and moves in a fast moving show – starring our hilarious host Leye D Johns, resident Viva Showgirls dancers.
There's Fantastic lighting, sound and production visuals including a massive LED screen and lasers – giving a real 'wow' to your night and plenty to enjoy
It's a full night out, with a show lasting for around 2 and a half hours with an interval – your whole evening is sorted!
Prices (Based on Adult Tickets. OAP (60+) and Junior (5-17) Tickets Also Available)
Show Tickets from £17 to £24pp
'Show & Dine' discounted upgrades from £16.95 to £21.45pp (Click for menu)
Junior (5-17) 'Show & Dine' discounted upgrades from £11.95 to £16.95pp
Estimated run time
Starting at 7.45pm (weekdays) and 8.15pm (Saturdays), the show runs in 2 halves, with a 20 minute interval. Each half is a minumum 1 hour, 20 minutes in length with the show finishing at approximately 10.30pm (midweeks) and 11.15pm (weekends)
Age requirement
We welcome all ages to the show, but we advise that some content is of a risque nature. All are welcome – young and old, but we would like to remind patrons that children are admitted at parent's sole discretion.
Other info
Pre-show dining is served before the show starts (arrival between 6pm and 7pm). Our snack bar is also open during the show until the end of the interval, and drinks waiter service runs throughout the show.
Please note
We tend to have more of a 'Party' atmosphere on Saturday nights, with a more relaxed feel to the show midweeks. This show is 'Great for Groups' and parties – with special rates for groups of 10 people or more.
Enjoy The Viva Experience…
No need to get up to the bar, or wait in queues as there's waiter service throughout the night serving drinks and snacks
If you're dining in your hotel, or already have meal plans before - don't worry as don't worry as show tickets are 'Show Only' by default.
Or if you want to make it a special evening or don't want to worry about where to eat beforehand, choose our 'Show & Dine' discounted upgrade with a pre-show meal served to your reserved table
Your seats are reserved - and you can make specific seating requests if you want (i.e. if you don't want to sit too near to the front!)
Looking for a deal for a larger party?  We have group rates for parties of 10 or more available – email groups@vivablackpool.com
Pricing
Earlybird tickets available until January 1st 2019
 

| | | | |
| --- | --- | --- | --- |
| Show Tickets | Premier Seating | Standard / Tall Table | Bar Seating |
| Adult | £17.00 | £17.00 | £17.00 |
| OAP (60+) | £15.50 | £15.50 | £15.50 |
| Junior (5-17) | £09.50 | £09.50 | £09.50 |
Wave 1 pricing applicable from January 1st 2019
 

| | | | |
| --- | --- | --- | --- |
| Show Tickets | Premier Seating | Standard / Tall Table | Bar Seating |
| Adult | £24.00 | £21.00 | £17.00 |
| OAP (60+) | £22.50 | £19.50 | £15.50 |
| Junior (5-17) | £13.00 | £11.50 | £9.50 |
'Show & Dine' Discounted Upgrades
Why not make a full night of it and take advantage of our discounted dining upgrade? You can enjoy our stunning menu for the amazing price of £16.95 for a two course meal or £21.45 for three courses. We also have a specially designed junior menu available for £11.95 for two courses or three for £16.95. Your meal is lovingly prepared by our skilled chefs and is served to your show seats before the show starts. All you have to do is submit your menu choices prior to the show and you can sit back and enjoy some amazing food and entertainment for a quality Vegas-style night out.
Take a look at the menu here (PDF)
Dine at the 'Viva Vegas Diner' our themed American Restaurant!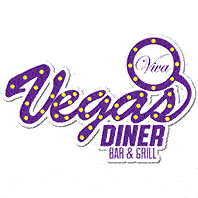 Alternatively you can reserve a table at Viva Vegas Diner- our classic American diner located right next to us on the promenade. A £10 deposit is taken at booking to reserve your place and is then deducted from your bill after your meal. Our diner menu means you can enjoy all the American favourites of burgers, dogs and shakes before show time. Tables are reserved for a 6pm arrival.
Carer Rates (Terms and Conditions Apply - ID Required)
Half price carer tickets are available for this show. The guest will need to provide official documented evidence of the disability, or of registered carer status (for example, blue or orange badge, award letters, or carer ID) on arrival to the venue otherwise a full priced ticket will be charged.
Group Rates (automatically apply)
Adult (Group 10-19 Persons) - 10%
Adult (Group 20-29 Persons) - 15%
Adult (Group 30+ Persons) - 20%
We also offer coach driver and travel agency incentives. Please contact us for more details of these incentives – groups@vivablackpool.com
Timings
Doors Open: 6.00pm
'Show & Dine' Served in the main auditorium from 6pm Last Entry For Dining 7pm*
Viva Vegas Diner Reservations: Please arrive for 6pm
Show Starts Approx: 7.30pm (Wednesdays) 8.15pm (Saturdays)
Running Time: Approx : 2 Hours, 45 Minutes (including interval) - runs slightly longer on Saturday night performances.
Curtain Down Approx: 10.15pm (Wednesdays) 11.15pm (Saturdays)
Advisory note to customers When choosing later dining times the house lights will be dimmed when the show starts
For more information and FAQs (including dress code) we have a 'Frequently Asked Questions' section on our website - click here