Theatre Venue Hire / Visiting Companies – Technical Specifications
<< Back to the Theatre Venue Hire Homepage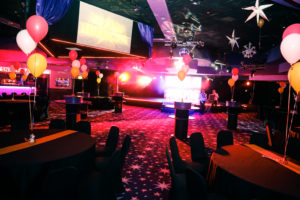 At Viva Blackpool, we pride ourselves on providing a fantastic quality audio and visual experience to our visitors.
We have a well equipped main house (Cabaret Theatre) with a giant LED screen backdrop, FOH projection and range of in house lighting fixtures and effects.
Included in Hire
Included in our theatre hire costs we will include the following:
Use of general fixtures and LED screen backdrop
Use of sound and lighting control
1 x house technician
Pyros (Cold Sparks) use of mics and additional monitors will be subject to rate-card costs.
Important
As a condition of hire, you may be asked to risk assess your own production and provide details for PRS
Viva Blackpool Technical Specifications and Rates
Download – Floorplan (PDF)