Blackpool is one of the longest standing British Seaside resorts and has many amazing places to explore including some amazing culture, delicious food and drink, and of course the thrills! Check out our guide which promises you the best 24 hours in Blackpool.
Rise and shine
Wake up bright and early and catch the views of the early morning sun as you walk down the famous Blackpool promenade and explore the sights it has to offer.
Pay a visit to Comedy Carpet designed to celebrate the jokes, songs and comedy catchphrases of Britain's most well-loved comedians. Located in-between North and Central Pier it is one of the largest pieces of public art in the UK paying great homage to 850 writers and comedians and is guaranteed to make you laugh!
During your stroll keep a look out for the 'Great Promenade show' art installations found along Blackpool Seafront. Many artists were commissioned to bring an outdoor gallery to the promenade and each piece reflects on part of Blackpool's distinct character. Including the largest mirror ball in the world and an organ played by the sea, this will definitely impress.
Alternatively, if you have been to Blackpool multiple times and want to explore somewhere new why not hop on a bus to the picturesque Stanley Park for your morning walk. This 390 acre park boasts a historic bandstand, stunning boating lake, the unique Art Deco café and is even known as a Pokémon Go hotspot. With something for everyone it is definitely worth the visit and is beautiful all year round… hire a pedalo and grab an ice cream in the summer or in autumn the crisp leaves, a lovely hot coffee and a snug scarf are all you need.
After working up an appetite… breakfast!
After all, that walking while exploring the promenade surely you will be hungry so why not pop down to the Viva Vegas Diner for breakfast? Transport back to the 1950s in one of our Cadillac booths and indulge in some delicious American pancakes or waffles all while enjoying the hits of Elvis and Grease. We believe it really does start your day off right when the family can all enjoy a delicious treat first thing in the morning over fresh hot coffee, in a lovely relaxed environment.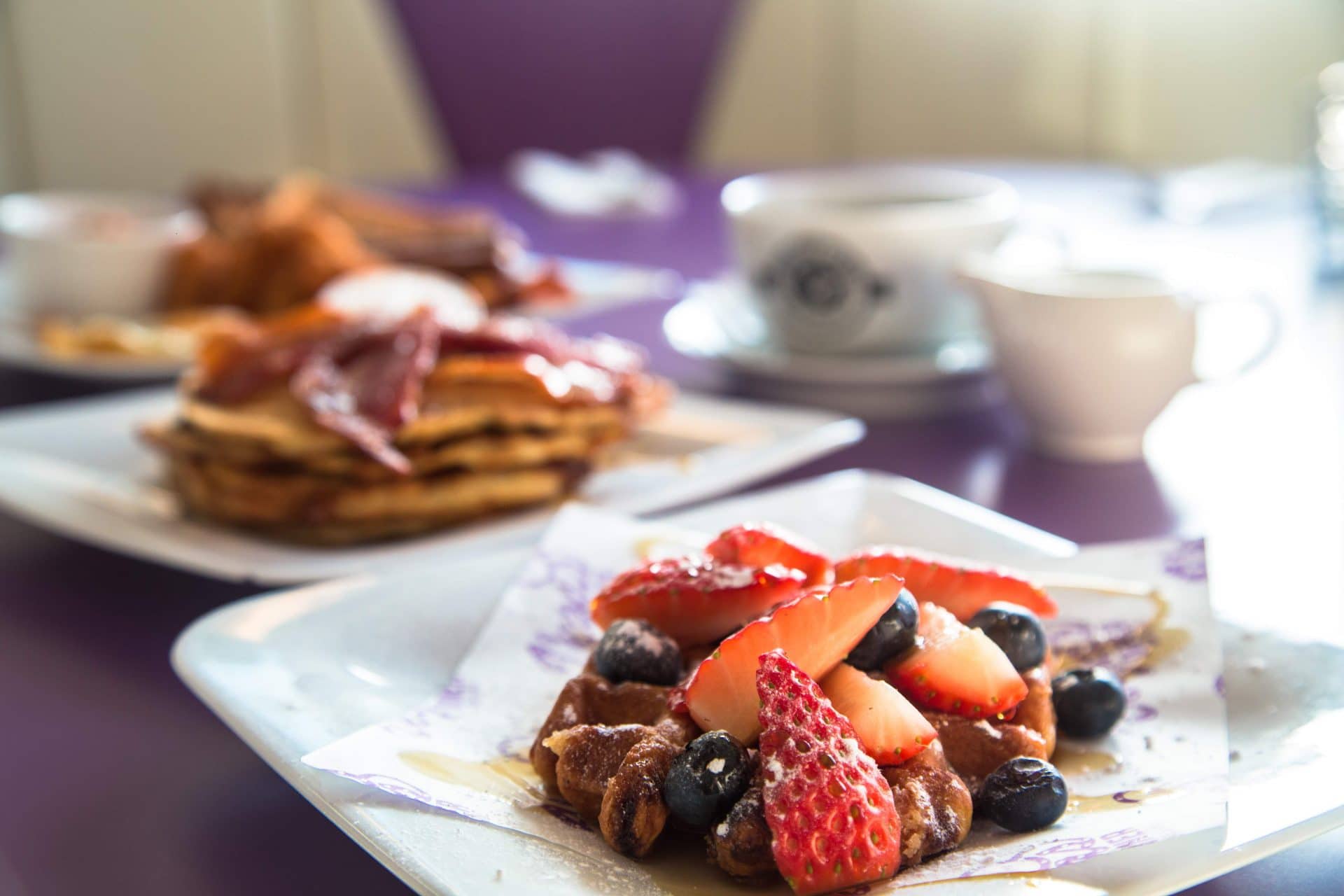 More exploring and a spot of shopping…
After Breakfast it is now time to explore Blackpool's 3 iconic, famous piers: North Pier, Central Pier, and South Pier. After 10 am all of the piers will be open and ready to explore. Opened in 1863 North Pier is Blackpool's heritage pier and has a more traditional feel than the others. Central Pier is known for its live shows, fun and of course the world famous Big Wheel. Last but not least is South Pier which is full of thrill seeking rides and fairground games providing fun for all the family. Each of the Piers has its own distinct feel, character, and history waiting to be explored.
The rest of the morning and early afternoon seems like the perfect opportunity to do a spot of shopping. Start off by having a nosey around Blackpool's Houndshill shopping centre home to 40+ shops and services including River Island, New Look, Build A Bear and The Disney Store. Don't forget to look around the souvenir shops on the promenade for that perfect (and by that we mean, tacky, hilarious and very Blackpool) gift to take home for your loved ones.
Can you get any more Blackpool than this?
Blackpool known for its fish and chips so why not take this opportunity to grab a quick easy lunch which means you don't need to stray too far from all the action. You could eat in at Harry Ramsdens which is now located inside the famous Blackpool tower building and are known for their grilled seafood and meat dishes, together with Harrys' world famous fish and chips. Or you could grab them to go from any of the traditional fish and chip shops on the promenade and sit on the seafront while you enjoy it.
Afternoon adventures and thrills
After lunch, why not take the opportunity to explore some of the attractions that Blackpool has to offer. There is plenty to choose from that will suit everyone in your family or group. A breathtaking trip to the top of the Blackpool Tower, coming face to face with a Shark at the Sea Life Centre or having your mind boggled Ripley's believe it or not your afternoon is sure to blow you away. Blackpool's attractions all promise fun for all the family, some of them include:
It's Dinner and Show Time
Blackpool is known for its arts and culture and part of this comes the opportunity to watch a world class show. Viva Blackpool is a Vegas-style venue situated in the heart of Blackpool and is the home to the amazing, glitzy and fabulous Viva shows- 'Viva Summer Spectacular', 'Viva Voulez Vous' and 'The Jersey Beats – Oh What a Nite', all of which promise a sing-along, dance along celebration.
Viva Blackpool also hosts a number of visiting performances ranging from hilarious comedians, outstanding live vocalists and much more! Click here to find out what is on this month at Viva Blackpool.
Viva Vegas Diners top Blackpool tips
Grab a 24 hour Blackpool transport ticket which allows you easy access to all the top spots in Blackpool without having to worry about parking or navigating.