Festive Show & Dine – Menu
Complete your Christmas and New Year visit to a Festive Show with Fantastic Food & Drinks!
The combination of our impressive room spaces, incredible entertainment, wonderful food and attentive, friendly service, makes Viva the perfect place to dine before you enjoy the show and entertainment in the evening ahead complimented by the best Christmas Food & Drink in Blackpool.
Add a Pre-Show 'Festive Show & Dine' Dining Package to Your Booking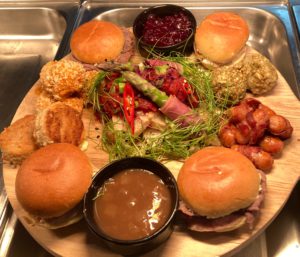 Our Festive Menu 2021 – Christmas 3 Course menu caters for all tastes with a 3 course option available, plus with a good variety of wines from around the world, an alcoholic and non-alcoholic cocktail list, and a well-stocked bar to choose from, you can be assured of a wonderfully satisfying dining experience with first class service to match.
When visiting most of our Festive evening shows, you can enjoy a great discounted menu offer of 3 Courses for £19.50. You can select the dining upgrade when booking online, or ask the box office to add to your booking.
Festive Platter Special
If you want to graze whilst watching the show, then our new Festive Platter specials are a great choice! Turkey and Stuffing Sliders, Beef and Horseradish Sliders, Pigs in Blankets, Pumpkin Mac and Cheese Bites, Camembert Bites, Bruschetta, Dipping Gravy, Cranberry Dip – £19.95 based on 2 people sharing
A vegetarian options will also be available shortly.
For festive show and dine bookings, menu choices must be received at least 72 hours before your visit (if submitting less than 24 hours before your visit you are advised to call 01253 297 297 option 1).