Mark James: Sideshow Tricks – Sleight Of Hand Magic & Comedy Show
International variety star Mark James is back by popular demand for 2018
Celebrating a second year at Viva Blackpool! This one-man variety show received rave reviews in 2017 returns bigger & better for 2018!
Join Mark James as he presents Sideshow Tricks fresh from a nationwide theatre tour, along with performances at the Edinburgh Fringe Festival & the World Famous Magic Castle in Hollywood.
You'll see Mark perform sensational sleight of hand, marvellous mind reading, jaw dropping juggling & much more. Book now for a unforgettable experience you won't want to miss.
Mark blends comedy with magic – with a lot of audience interaction & participation, with no embarrassments!
A night of comedy, magic, juggling, & sideshow stunts perfect for the whole family!
Prices (Based on Adult Tickets. OAP (60+) & Junior (5-17) Tickets Also Available)
Show Tickets from £12.50 to £14.50pp
Family Discount Offer – 15% off bookings of 4 or more
'Show & Dine' discounted upgrades from £16.95 to £21.45pp (Click for menu)
Junior (5-17) 'Show & Dine' discounted upgrades from £11.95 to £16.95pp
Mark James sideshow tricks

if you wont a TOP family night out then the Mark James sideshow tricks should be on the top of your list...we've been going to blackpool for many years and always found if difficult to find things to do on the night as a family. Searched the internet and found viva blackpool and booked the Mark James sideshow tricks show...ABSOLUTLY fantastic had me crying screaming(don't hit the nail in any further please..you'll know when he does it) entertainment for the kids and the old un's...TOP TOP night thank you MARK!!!!!

chrisjb682017 - Tripadvisor September 2017

Brilliant Mark James

Went to see Mark James last night, absolutely brilliant. We had our 11 year old grandson with us who really enjoyed himself. Would definitely recommend this show to anybody looking for a great family friendly show. Thank you so much, Stewart.

Stewart N - Tripadvisor August 2018

Mark James Show

This was our second time seeing Mark James and it was just as good as the first time. Mark is a fabulous entertainer he is very funny, engages with his audience all the way through the show and he is an excellent magician, really how does he do that? We had 3 teenage girls in our group, notoriously hard to impress but they were mesmerised and all said what a great show it was. I would recommend Mark's show to anyone it would suit all ages and was worth every penny. Great value for money. Comedy, magic and old time side show tricks, will definitely be seeing this show again.

jaynerhodes - Tripadvisor August 2018

Mark James sideshow magic

100% brilliant. Mark James family entertainment at it's best. We laughed throughout and couldn't believe what we saw. Very clever and original. The only show I have wanted to see again. Where is that balloon !! This is one show you don't want to miss, nobody works harder than Mark James.

Mark R - Tripadvisor August 2018

Mark James Sideshow Magic

What a top show really enjoyed it. Mark James worked the audience well with good audience participation. Clever tricks from a talented entertainer. Highly recommended. Only downsides were noise from the other venue and slow service at the bar. Give it a try you won't be disappointed.

Archiebald53 - Tripadvisor August 2018
Enjoy The Viva Experience…
No need to get up to the bar, or wait in queues as there's waiter service throughout the night serving drinks and snacks
If you're dining in your hotel, or already have meal plans before - don't worry as don't worry as show tickets are 'Show Only' by default.
Or if you want to make it a special evening or don't want to worry about where to eat beforehand, choose our 'Show & Dine' discounted upgrade with a pre-show meal served to your reserved table
Your seats are reserved - and you can make specific seating requests if you want (i.e. if you don't want to sit too near to the front!)
Looking for a deal for a larger party?  We have group rates for parties of 10 or more available – email groups@vivablackpool.com
Pricing - All prices below are inclusive of all booking and card fees
 

| | | |
| --- | --- | --- |
| SHOW TICKETS | Premier Seating | Standard / Tall Table |
| Adult | £14.50 | £12.50 |
| OAP (60+) | £13.50 | £11.50 |
| Junior (5-17) | £12.50 | £11.00 |
'Show & Dine' Discounted Upgrades
Why not make a full night of it and take advantage of our discounted dining upgrade? You can enjoy our stunning menu for the amazing price of £16.95 for a two course meal or £21.45 for three courses. We also have a specially designed junior menu available for £11.95 for two courses or three for £16.95. Your meal is lovingly prepared by our skilled chefs and is served to your show seats before the show starts. All you have to do is submit your menu choices prior to the show and you can sit back and enjoy some amazing food and entertainment for a quality Vegas-style night out.
Take a look at the menu here (PDF)
Dine at the 'Viva Vegas Diner' our themed American Restaurant!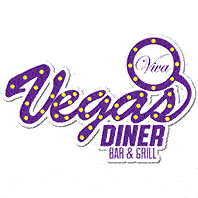 Alternatively you can reserve a table at Viva Vegas Diner- our classic American diner located right next to us on the promenade. A £10 deposit is taken at booking to reserve your place and is then deducted from your bill after your meal. Our diner menu means you can enjoy all the American favourites of burgers, dogs and shakes before show time. Tables are reserved for a 6pm arrival.
Carer Rates (Terms and Conditions Apply - ID Required)
Half price carer tickets are available for this show. The guest will need to provide official documented evidence of the disability, or of registered carer status (for example, blue or orange badge, award letters, or carer ID) on arrival to the venue otherwise a full priced ticket will be charged.
Family Discount (automatically apply)
15% Off (When booking 4 or more tickets)
We also offer coach driver and travel agency incentives. Please contact us for more details of these incentives – groups@vivablackpool.com
Timings
Doors Open: 6.00pm
'Show & Dine'Served in the main auditorium from 6pm Last Entry For Dining 7pm*
Viva Vegas Diner Reservations:Please arrive for 6pm
Show Starts Approx: 7.30pm
Running Time: Approx : 2 Hours (including interval)
Curtain Down Approx: 9.30pm.
Advisory note to customers When choosing later dining times the house lights will be dimmed when the show starts
For more information and FAQs (including dress code) we have a 'Frequently Asked Questions' section on our website - click here