Viva's Business Development Manager, Julie Holland will be spilling the tea on all things Viva Partnerships once a month and telling you all about her quest in finding new local businesses to join Viva and become a VIP partner!
From signing up new businesses to our VIP partner scheme, attending the BBLG Event, hosting our very own Coffee Morning, to attending the Elephant Launch at Blackpool Zoo! keep reading to find out what she got up to this month…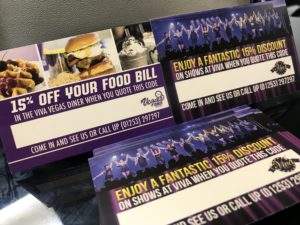 As always, it's been a very busy and productive month for me at Viva, our partner scheme is well underway and I've spent this month visiting some of our existing partners taking them our new guest discount cards as well as introducing myself to some potential new partners – which is always exciting! It's always great to catch up with other local businesses and see what they've been up to and how they're doing, especially when we are working together to deliver a fantastic package offer to visitors.
For those of you that are not familiar with Viva's new partnership scheme, we partner up with local accommodation providers in order to offer visitors a higher-quality experience when visiting the town! We do this by giving hotels the opportunity to sell some of our shows to their customers for a discounted price, which in return will generate them a commission for every show ticket they sell. The benefit of this scheme is that visitors will receive a more fun-filled affordable holiday package which the hotels are now able to offer!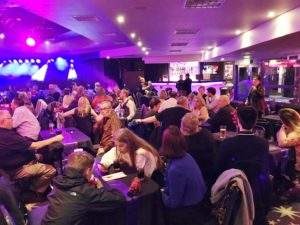 This month, Viva had the pleasure of hosting our own season launch Spring coffee morning, where we invited all of our partners to sit back, relax and watch a sneak peek of one of our fantastic shows whilst we inform them of all the new and exciting things we have coming up! It's a great way to enage with our partners and also for our partners to enagage with each other.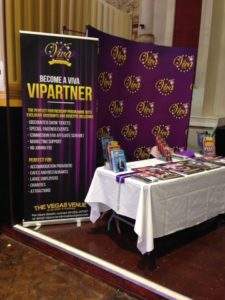 We were also invited to attend Stay Blackpool's Open Day on the 1st March …. at the beautiful Winter Gardens – as you can probably tell, we do love a coffee and chat with folk here at Viva!
I had the absolute pleasure of representing Viva and meeting all the people behind some of the amazing local businesses in the town. I even managed to sign a few up to our partner scheme – result!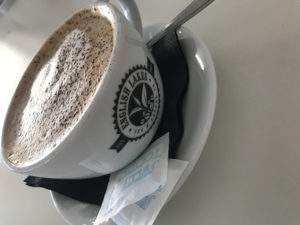 Another exciting thing that I get to be a part of every other month is attending the BBLG networking event (Blackpool Business Leadership Group) where all local businesses join together to talk about the town and update each other of what's going on and to find ways of coming together.
Like I said previously, it's always great to hear about what other businesses are getting up to and finding out how Viva can get involved! It was a wonderful morning and I had the pleasure of catching up with a few of our partners- which is always nice. That particular meeting consisted of some amazing, exciting and interesting presentations from business representatives – some of my favourite ones I have listed below!
My good friend Kila Redfearn from Blue Skies Hospital Fund – who is also one of our affiliate VIPartners, gave an interesting and heartfelt presentation on the Blue Skies charity and the work they do to enhance patient care by providing items which fall outside the remit of NHS funding but can make such a difference to the lives of patients. You can find out more here.
Emma Whitlock from Love My Beach gave an update on their latest campaign to cut down the need for single-use plastics which has been in the press so much lately and gave more information about the Re-Fill campaign which businesses can become a part of, offering to fill customers drinks bottles with Tap Water for no charge. You can find out more about this wonderful campaign here.
Carolyn Primett from Blackpool Council gave an interesting presentation regarding their latest campaign around CultureBlackpool and B/Side, which you can find out more about here.  I am looking forward to finding out more about how Viva and our incredible range of shows and performances might fit in with the campaign.
I can't even tell you how many other amazing presentations there was from many other Blackpool based businesses. Find out more about BBLG here.
One of my favourite and most memorable outings for this month has been attending the opening of the Project Elephant Basecamp at Blackpool Zoo! In case you didn't know, Blackpool Zoo has invested money, time and effort into not only improving their Elephant sanctuary but taking on four new Elephants too!
I remember being truly 'wowed' when I first set my sights on the new 'Elephant House' and my heart melted just a little when being introduced to the new Elephants. I am certain that these incredible Elephants will enjoy their new home especially the brand new fabulous pool! Our fantastic Affiliate Partners, Visit Blackpool, who also attended the Zoo opening have done a much more detailed write up all about the new Elephant enclosure which you can view here.
The reason I was invited to this special opening is that Viva recently partnered with Blackpool Zoo and we are now able to sell tickets to the Zoo through our venue. This is a fantastic partnership that offers visitors an even more high-quality and fun filled holiday deal on local Blackpool attractions!
So, as you have read, I've had a very hectic but fantastic few weeks engaging with all of Viva's incredible partners and meeting some other great businesses along the way! I have a lot more exciting events coming up next month that I can't wait to tell you all about, including another coffee morning event at Blackpool Zoo!
Make sure to check out our news section each month for the next 'Coffee Talk… with Julie'.